THIS COURSE INCLUDES HANDS-ON LABS

This course builds on the "Kubernetes Basics" curriculum and looks at more advanced Docker and Kubernetes topics, including: 
container networking
container storage
best-practices of managing cloud-native applications. 
Moving beyond the install, this advanced Kubernetes course focuses on the ongoing operations of your app, including the tools needed to keep your Container Orchestration Environment (COE) and the applications it is managing healthy and resilient.
Lecture-based content is reinforced with
hands-on lab exercises that serve as starting points for building your own Kubernetes environments
.
Whether you need to understand how this technology relates to the products you are developing (or considering purchasing), are considering developing cloud-native applications, or want to be up to speed on the latest cloud technology before your next job interview, this course will give you experience with the two technologies that increasingly underlie modern cloud-based infrastructures and applications.
The training is intended to be tactical, with the expectation that--beyond a fundamental understanding of principles presented--you will be ready and able to use Docker and Kubernetes by the end of this course.
PREREQUISITES
Experience with Linux command line will be helpful, but not required
TARGET AUDIENCE
Application Developers

Infrastructure Operators

Project Managers

Pre-Sales / Sale Engineers

Development Managers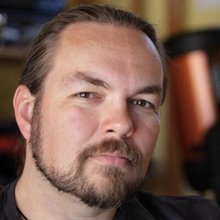 Kumulus Technologies, Founder and CTO

Robert Starmer
With 20 years of experience in automating IT data systems, and a focus on automating not only application deployments, but the underlying infrastructure as well, Robert brings a wealth of knowledge to the full application enablement stack from underlying Infrastructure automation and compliance to application deployment automation. Robert's technology background stems from efforts in such diverse fields as high performance computing and high frequency trading environments, scale-out workload managment, and enabling ops automation and continuous integration and deployment services. Robert also holds patents in network, datacenter, and application performance and scale enhancements. Robert is currently a founding partner at Kumulus Technologies, a San Francisco Bay area infrastructure focused Dev/Ops and Cloud Systems consultancy, where he writes, presents, develops, and educates industry on cloud and dev/ops topics.
1A Kubernetes Architecture

1B Kubernetes - Underlying Infrastructure

Kubernetes Review - Lecture Slides

Lab 1 💻 Reviewing the Basics of Kubernetes with Docker.

Lab 1.1 💻Deploying a Kubernetes cluster on Microsoft Azure

Lab 1.2 💻 Deploying Kubernetes to AWS with KOPS

K8S Basics Knowledge Review

2A DaemonSets - Introduction, Updates, Communication

2B DaemonSet alternatives

2 Kubernetes Extensions - Lecture Slides

K8S Extensions and Services Knowledge Review

3 Kubernetes Services - Lecture Slides

LAB 2 💻 To Kubelet or DaemonSet

4A Introduction to Container Networking and the DockerNetworking Model

4B Kubernetes Networking Fundamentals

4E Networking - Pods and Services

4 Kubernetes Networking - Lecture Slides

K8S Networking Knowledge Review

6A Introduction to Storage: Volumes and Persistent Volumes

6B Persistent Volume Lifecycle

LAB 4A 💻 Storage: Ephemeral

LAB 4B 💻 Storage: Persistent Volumes

6 Persistent Storage - Lecture Slides

6C Lables, Selectors, and Volume types

Persistent Storage Network Review

7A Monitoring- Logs and Metrics

7 Monitoring Containers - Lecture Slides

8A Monitoring Infrastructure

8 Monitoring Infrastructure - Lecture Slides

LAB 5 💻 Monitoring Kubernetes with Prometheus

Prometheus and K8S Knowledge Review
About this course
$997.00

50 lessons

2.5 hours of video content
...and check out our class bundle ⬇